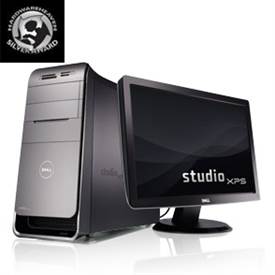 Average Customer Rating:

4.4

out of

5
319

of

354

(90%) customers would recommend this product to a friend.
Overall Rating:






Computer:

XPS 8300



Date: 

26 December 2011





Reviewed by:

Kilkia




Level of expertise:

Good




Title:




Dell XPS 8300 Review - Very Pleased





Product Uses: 


Gaming, 3d graphics design, internet and email, hd movie watching, streaming video



Review:


My XPS 8300 is replacing a six year old Dell Pentium D-based computer that still runs but is just not able to handle more intensive tasks anymore. I did not have the means of building my own computer, so the XPS 8300 seemed like the next best option to me based on my personal experience with the reliability of Dell machines.

Pros:

This computer worked right out of the box. The setup was a breeze and took a short amount of time to complete; there was very little bloatware installed. It runs silently and stays cool even after being kept on for hours at a time handling long sessions of gaming, multitasking, and so forth. The i7-2600 processor is blazing fast - the difference between the Pentium D processor and this one is night and day. The computer starts up quickly and within a few seconds I am able to get started with my work.

You do not have to worry about whether or not there is enough room to upgrade the power supply and the graphics card in the case. I replaced the original power supply with a 600-watt one and replaced the AMD HD 6770 graphics card with an Nvidia GTX 560 Ti. Both items fit inside the case without a hitch, and there was even room to spare in regards to the length of the graphics card. The computer has only one PCI-express x16 lane, however, so I do not believe that CrossFire or SLI setups are an option.

For gaming, I would say that Crysis 2 and Company of Heroes are my two most system-taxing games. I can play both of these games smoothly at a resolution of 1920 x 1080 at their highest settings for hours on end without any slowdowns or stuttering at all. The included THX sound card works just fine for gaming.

Furthermore, I am an engineering major in college, and this computer handles 3D design programs such as SolidWorks and AutoCAD very well. With the i7-2600 processor, plenty of RAM, and the graphics card, I can get my work done that much more efficiently.

This machine definitely offers impressive performance.

Cons:

Although not essential, USB 3.0 does not come with the system; one must purchase its support as an add-on or buy a USB 3.0 card. As a college student working on plenty of projects, I know that I would appreciate the integration of USB 3.0 and the higher transfer rates that it offers over USB 2.0.

The hard drive garnered the lowest component rating in the Windows Experience Index (5.9 / 7.9 rating), meaning that it is the slowest component of the system. For me, I am fine with keeping the original hard drive, but the computer could transfer data a bit faster (and possibly run faster as a result) with a faster hard drive.

Summation:

Overall, I am very pleased with the XPS 8300 and the performance that it offers. This is the second desktop I have owned, and for now, I am quite happy with my purchase. It is a long overdue upgrade from my old computer, and I hope that it will last me just as long or longer. This computer is perfect for anybody, from college student to hardcore gamer to casual user.


Overall Rating:






Computer:

XPS 8300



Date: 

08 May 2012





Reviewed by:

lionSRFUN

(YORK PA)


Level of expertise:

Good




Title:




dell 8300 review





Product Uses: 


streaming video, facebook, gmail, pay bills



Review:


This dell 8300 i7 is the fastest computer I ever worked on!


Overall Rating:






Computer:

Studio XPS 8100



Date: 

09 April 2010





Reviewed by:

JordanM

(NJ)


Level of expertise:

Good




Title:




Dell Studio XPS 8100 review





Product Uses: 


internet surfing, ms office, music and video, light gaming



Review:


I bought the newer 8100 model (that replaced the 8000) online on the dell.com website and I am extremely pleased with my purchase. I got it with some slight upgrades - the Intel Core i-5 750 processor with 8MB cache and 2.66gHz, which is a totally different chip than the lower model i5 and I would recommend, and almost as good as the i7. Unless you are doing photoshop or another really intense program, you probably don't need the i7. My computer never bogs down or feels taxed, and it is awesome when Microsoft Word or Excel opens in mere seconds as well as iTunes opening in probably 5 or so seconds which is fast. I got the best Radeon graphics card they offered (the 5770 I believe) since I don't want to need to upgrade later, and a 750GB HDD and 6GB RAM. The only issue I have had is my computer seems to have insomnia and comes out of sleep mode randomly sometimes but the computer is so quiet and cool running it doesn't matter. I've had no windows 7 problems and it works awesome.


Prices and specifications are correct at date of publication but subject to availability or change without notice. Photos for illustrative purposes only - actual items may differ from photo. Dell cannot be responsible for errors in typography or photography. Promotional Offers apply to maximum order size of 5 systems. Dell's Terms and Conditions of Sales and Service apply and are available on request. Dell service offerings do not affect consumer's statutory rights.

Shipping charges for items purchased in the Software & Peripherals store are based on product type & quantity ordered. Standard shipping ranges from £3 ex VAT (£3.53 incl. VAT) to £13 ex VAT (£15.28 incl. VAT) per item for items purchased without a system.

snNP05